Stället för en massa märkliga inlägg så har jag samlat ihop dem som jag fick i väg från Grammis här. Så kan du som är så där friskt superintresserad läs den lilla lilla liverapportering jag försökte upprätthålla inne från Operan. Tyvärr var det ingen mottagning och inget trådlöstnät så det hela gick så där... Men mannen på bilden behöver ingen mottagning eller nät, han går hem ändå. Sjukt stort grattis Håkan!
Inläggen kommer precis som i vanliga bloggen, sist ligger överst.
Grand hotell
Ja, men nu var det så att juryn fick äta på fina Grand Hotell.
Jag lovar, jag är den enda som skriver om musik på en blogg här. Indiepojken dricker dyr champagne... Nyss var jag på Cosy den, nu Grand Hotell. Jisses.
Calleth You, Cometh I
The Ark, Håkan Hellström, Eva Dahlgren med flera avslutade precis med en är de bästa låtarna som finns: Calleth You, Cometh I!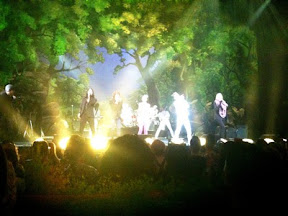 Sjukt bra avslutning ! Nackhår upp!
Glad vinnare!
Samtal med trevligaste killen!
Paus
Ska jag vara ärlig? Det kanske man ska vara, många gillar inte det för man framstår som småsint. Men här kommer det: Det är lite segt. Alltså, publiken är seg. När bl.a. Anna Järvinen mfl gjorde en bedårade vacker Vid protesfabrikens stängsel klappade man knappt. Tror ingen tår av glädje föll, bara för den nynesten att få vara här och höra. Nä, jag tror faktiskt Statoil har roligare "branschfester".
Men vem vet, det kanske tar sig i akt 2.
Årets…
Äh, jag struntar i att räkna upp kan istället berätta att Årets hårdrockdband är en bunt idioter. Kommenterade årets kvinnliga med: Fittläppen!!!
Jajemänn...
Årets kompositör…
Åhlund och Robyn
Årets manliga…
Håkan
Juryn
Ska bli kul att se vilka andra som varit med i juryn. Kanske någon man känner? Kanske någon som gillar skev sång, kvinnor på gitarr och handklapp?
Och live blir det…
The Ark.
Nu vet ni det i allafall. För det är väl "hemligt". Kvällstidningshemligt.
Får se hur det går med att ladda upp bilder, Grammis är ju inte precis ett Apple-event. Det finns trådlöst här men bara i "presshörnet" verkar det som. Inget bloggade från första raden med andra ord.
Folk har sjukt fina kläder BTW. För utom dansbanden...
Kläder
De tar det här på allvar. Svart och sobert ska det va. (bild tagen i smyg)
Grammis
Går på Operan och hänger på Grammis...