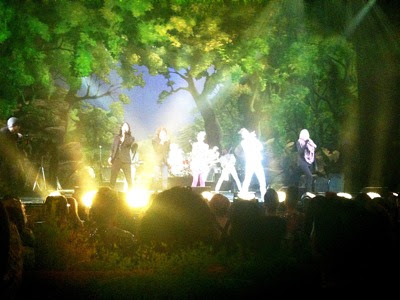 Jag skrev en krönika för en webbtidning. En bra webbtidning. De ville inte ha krönikan. Deras förlust. Er vinst, för här kommer den. Det handlar alltså om Grammisgalan, men den är kanske inte riktigt som en vanlig krönika. Jag rackar inte ner på Grammis (öppet mål), jag berättar inte exakt hur det var och vilka som vann (det kan du läsa precis överallt) och jag gör inga analyser på vem och varför den och den vann/inte vann (analyser är sjukt tråkiga och pretto). Jag skiver om hur jag upplevde det.
Och jag startar en beef med ett hårdrocksband, så numera kan jag förmodligen inte åka till Uppsala. Någonsin.
Grammisgalan 2011
Precis till vänster sitter
Bollen
och
Martin
från Hästpojken. Lite längre åt vänster
Familjen
och
Petter
. Rakt fram
Amanda "Hajen/Jaw Lesson/Idiot wind" Bergman
och
Plura
. Åt höger en bit bort hittar man
Håkan Hellström
och
Robyn
.
Mitt i allt det här sitter alltså jag. Så starstruck att jag knappt får i mig bjudchampagnen. För jag är inte som dem. Jag är inte som skivbolagsfolket, copycats som gör allt för att vara så lika artisterna till kroppsspråk och snack. Jag är inte heller sval som artisterna, världsvant avslappnad i den röda stolen på Kungliga Operan i Stockholm. Faktum är att jag svettas.
Nä, här på Grammis blir jag precis den jag är, ett fan. En musikälskare som aldrig kommer bli något annat än den där 15-åringen som precis upptäckt
Per Gessle
sitter på samma flygplan.
Så det är från den vinkeln jag tänker berätta om Grammisgalan 2011 för er. För även om jag satt med i juryn och även om jag pratade med både
Håkan
,
Jepson
,
Bollen
,
Antilla
,
Norrsveden, Bell
och
Andreas Weise
så är jag bara jag. Och då är fan i mig en Grammisgala stort. Att få segla upp för operans trappor, tassa runt band både
Larz Kristerz
och
Lena Philipsson
är en smula overkligt. Att se
Sami
(Kent) bli sur som ett bråkigt barn för att han inte få hänga in sin jacka eller att försöka rädda Anna Järvinens klänning från att förstöras av någons vin är den totala fantasivärlden. Jag är så innerligt imponerad av dessa människor och deras talanger. Alla, kanske inte precis alla, har gett mig så mycket och de kommer nog aldrig riktigt få höra det. Det är i den här situationen som något märkligt händer. Jag försöker se upptagen och sval ut. Och märker att alla andra gör det samma…
Kan det vara så att alla på Grammisgalan faktiskt också är fans? Att de också svettas lite när de får byta några ord med Håkan? Att till och med en annan superbegåvad artist förvandlas till ett barn och gör allt för att hitta samme göteborgare, bara för att få möjligheten att berätta just precis de som jag inte får ur mig. Att han betytt så mycket. Är han också ett fan? Förmodligen och det gör mig glad. När de flesta bara ser syniskt på en musikbranch på dekis försöker jag verkligen se en hoper människor som lever och andas musiken. Alla på sitt sätt, men med den tanken i huvudet att de här artisterna är värda all respekt för allt de gör med oss.
Nu känner ni för lite Grammisskvaller, så att det här blir en sådan där vanlig krönika på internet. Jag ska inte vara sämre än att jag ger er precis det:
När årets kvinnliga artist ska utropas och den lilla sekunden av nervpirrade tystnad mellan "Årets kvinnliga artist är…" och namnet på vinnaren hänger i luften hörs det plötsligt från bänkrad två:
Fittläppen!
Strax efter några grymtanden och några rop på efter mer öl.
Årets hårdrock plockades av Uppsalabandet
Watain
, ett gäng svartklädda killar som tydligt tagit ut segern i förskott och laddat sina kroppar fulla med öl. För och främst, jag har absolut inget emot hårdrockare. Så länge de inte är oförskämda och en smula barnsliga. Watain är båda delarna. Utropet under årets kvinnliga är inte det enda under kvällen, jag ser bandets manager (eller liknade) med ansträngd min göra tröstlösa försök tysta ner pojkarna.
Nä, Watain, ni skulle inte svängt vänster där i rondellen, ni skulle svängt hela varvet om och åkt hem i stället. Till korvmojenparkeringen där ni hör hemma.
Men det där var bara en detalj i en annars väldigt fin, men stundtals långsam, gala.
Eva Dahlgren
briljerar och griljerar våra hjärnor med underfundig komik. Hennes kläder från bästa
Bea Szenfeld
bär hon upp med både grace och svart komik. Kvällens finaste stund fixar
Anna Järvinen
med flera när de tolkar en av 2010 år bästa låtar, Hellströms Vid protesfabrikens stängsel. Hon gör orden till sina egna och det är sannerligen helt knäpptyst i lokalen. Innan superapplåden bryter ut.
Håkan berättar senare hur han fällde en liten men viktig tår under framträdandet. Han var inte ensam.
Lykke Li
är helt fantastik. Som vanligt. Men den mest oväntade och nackhårsresande stunden kommer precis i slutet.
The Ark
har precis avslutat premiären av nya låten Breaking up with God och smyger över den i Calleth You Cometh I. In på scen kommer…håll i hatten, Håkan Hellström, Eva Dahlgren,
Tove Styrke
samt
Melody Club-Stoffe
. Herre jävlar! Håkan gladare än någonsin bredvid Ola, på engelska. Eva ger låten den kärlekskicken som man inte trodde den behövde och Stoffe ger sitt allt. Detta framför en bedårade vacker operadekor i trä som får hela scenen att bäddas in i grönska. Bland det bästa jag upplevt!
För att knyta ihop skorna, gå hem och summera: Grammis är en internfest. Tokintern. Inget fel med det, ingen kräver att till exempel Statoil ska gå publikt med sina företagsfester. Men det blir Håkan som håller kvällens viktigaste tacktal:
- Jag vill först tacka de som betyder något i allt det här. Mina fans. Alla fans. Vi får inte glömma bort dem. Tack.
Var så god, nöjet var helt på min sida.
Jerry Boman