Jag blir så glad av att se alla människor i Berg 211 den här kvällen.
Koloni
, som denna kväll slog sig samman med "
vänder sig om
", har länge varit en favorit i Göteborg för mig. Alltid intressanta saker, ibland mystiskt, ibland inte min smak men alltid intressant. Tyvärr har det ibland varit glest i raderna, men den här kvällen blir det fullt. Alltså, fatta, fullt inne i berget! Det finns bara en förklaring på det: Koloni och "vänder sig om" har fått upp ögonen på folk. De visar att det finns en annan stad, en bättre stad. En stad utan påklistrade leenden och creediga fester. Det finns framför allt något bättre än en skitnödig invigning av filmfestivalen...
Jag börjar med det bästa direkt:
Le Bombe
. Har lyssnat ett tag på nätet nu och blev sprudlande glad när jag så att vi skulle få fin besök från Malmö. Le Bomb är Maja Karlsson och utforskar landskapet kring pop/electro/spokenword med nyfikenhet och öppet hjärta.
Jag blir så glad. Det är dansant, smart och väldigt bra texter. Det finns inget mer att önska, Familjen få se upp! Tvspelsrytmerna förstärker de viktiga budskapen, ibland är det Edit Piaf i modern kostym, ibland svart men spröd hiphop från kreativa rum.
Så ramlar det snyggt över till barnsånger för vuxna i "Klagosång", dansgalenskap i "Hitten" och ordförvrängning i "Vokalerna".
Men det som gör det hela viktigt är budskapet. Det berättar om ett utanförskap som de flesta sneluggar bara kan fantisera om. Nu blir det liksom lite fjuttigt att stå och sjunga om att man är en outcast, att inte en kotte förstår en. Le Bombe diktar inte, det är på riktigt. För om man tänker efter, vem kan mer beskriva en hemlös vardag en en person som är just hemlös?
Malmö framstår mer och mer som paradiset på jorden, stan spottar ur sig de mest intressanta artisterna, de mest intressanta uttrycken och de mest spännande människorna. Göteborg blir faktiskt lite tråkigare, är det enda vi kan komma fram med år punkpop. Eller gråmålad bombastisk pop. Malmös, och resten av Skåne också för den delen, är ett glädjepiller. En färgglad frukost där gårdagen är glömd. Alla får ta plats och får säga sitt.
Kvällen i berget var mer än Le Bombe. Jag lyckades inte höra nämna Maja Karlssons och Sara Hallströms poesi, det var helt enkelt för mycket folk. Men tydligen var det galet bra.
Däremot fick jag utstå, ja jag säger utstå för det var inte roligt,
Eyes Like Saucers
. Jeff Knochs spelar på en tramporgel... ja, det är ungefär det som händer. I längden blir det väldigt enformigt. Bara för att man lyckats hitta en märkligt instrument betyder det inte att man fångar publiken. Fler än jag börjar prata högt för att sedan gå. Respektlöst, ja visst men vad skall man göra när musiken monotont vaggar en en till söms.
Pamela & Anna gjorde nog väldigt bra ifrån sig med sin poesi/teater. Tyvärr fick vi i publiken aldrig en chans att höra det, ljudet växlade mellan mummel och rundgång...

Gay Against You
skulle vara den stora finalen. Lite bra var det allt, men inget jag kommer spara. Fick känslan av von oben, Joe och Lachlann uppenbarar sig på samma sätt som TTA. Tittar ner, klär sig i "en hygglig kille" och gör musik att dansa till. Men jag hittar ingen själ. Ingen energi.
På det hela taget så var det en bra kväll, och tack till den stackars killen i garderoben för att han tillslut hittade min jacka. Just då kändes det tråkigt men allt löste ju sig och jag kunde gå hem i regnet med Le Bomb i öronen.
Tillsist:
Det här skall ni lyssna på.
Hotkorv heter bandet och lyssna på Gayrobot.
Vocoder gone mad!
Och när ni ändå är igång på nätet lyssnar ni på
Kanske Älskling
. Bitterhet kan vara vackert som i " Salem Al Fakir".
Sen kan ni vara lagliga individer och ladda ner körsångsgalenskap i
Black Kids EP här
. Den är bra. Inte lika bra som "I'm Not Gonna Teach Your Boyfriend How To Dance With You" men man kan ju inte uppfinna hjulet varje dag.
Tilsist3:
Så trodde jag då att lördagens aktivitet var spikad,
My Darling YOU!
s släppkalas på Röda Sten. Men så ploppade den här upp: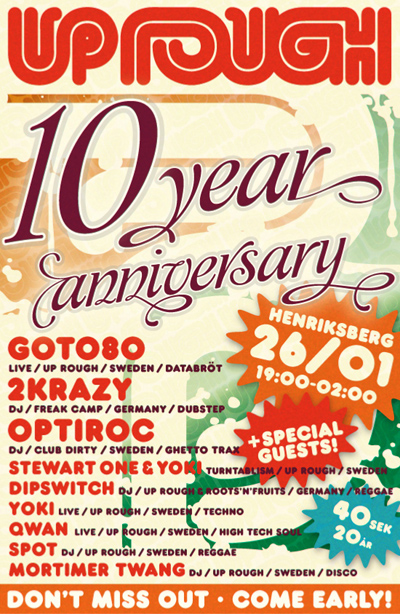 Goto80 är ju ändå kul.
Jerry Boman