Intro:
Det är för varmt för att skriva mycket.
Först:
Kontiki
kommer vara överfullt hela sommaren om det fortsätter så här! Trevlig personal, bästa läget och underhållande toaletter. Ett superställe i staden. Jag ansöker om stammiskort eller liknade...
Sen:
Det var ju meningen att jag skulle kolla in This Is Love.
Men som vanligt händer det helt andra saker, det blev en sliten studentpub med
The Medalist
och
Swissair
.
Jag har aldrig studerat vid något universitet, inte heller vid någon folkhögskola. Tror inte jag skulle passa in, är är för svartmodig. Alla verkar ju vara så fria och obekymrade.
Men nu stog jag ändå där i en sunkig studentpub mitt på ett berg. Det kan ha varit tre hundra grader varmt men ölen var billig så det fick gå.
Inne i hörnet står första bandet, The Medalist. I publiken står bandets polare.
TM gör pop. Den enklaste av pop. Det är luftlätta sånger.
Tyvärr så finns det fler som gör samma. Jag vill inte säga att de var tråkiga men jag är mätt. Pallar inte äta poppasta mer...
Men precis som bandets skönt högljuda (mer folk som skriker ut sin glädje, det fick bandet på bra humör och därmed spelade de bättre!) fanclub skriker efter låten "Landslide". Tillslut längtar jag också efter den låten.
Och där vänder det! Vilken jävla låt! Helt underbar! Plötsligt var det tryckluft istället för stiltje! Tjoo!
Skönast var ändå bandets basist, han stod och log hela spelningen. Han verkade ha livets peak där och då. Fint.
Efter några fler billiga öl och luft på terassen blev det band två: Swissair.
Det är snyggt, det är svävande och perfekt när varit uppe sedan kvart över fem en fredag. Fina gitarrplinkande berättelser kompade av ett enkelt piano. Det blir synth utan syntetiska släktngar i kullisen.
Sven Johansson är en gud på gitarren! Han snurrar fram små toner lika lätt som vi andra går.
Om jag skulle ha gått på något universitet och det hade varit sista dagen, då skulle jag velat att Swissair kört Stromboli. Låten om en film, låten om en ö. Nostalgisk, dramatisk och ett perfekt avslut på allt. Och faktiskt kan jag känna som den där vulkanen (detta förutsätter att du slår upp Stromboli på nätet), ibland händer det saker men för det mesta ligger det bara still. Typ som det är när världen är 30 grader varm och varje rörelse är för varm.
Nu går jag ut.
Tillsist: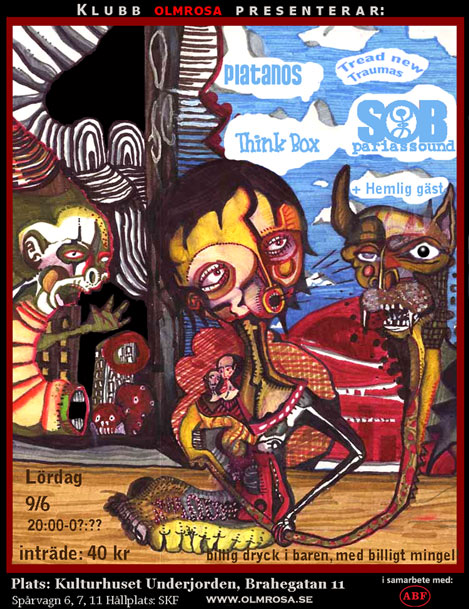 Jerry Boman
redaktör Allears Göteborg