Det var nyss väldigt mycket fotboll här. Konstigt. Hela festivalen tog paus.
Det är fösta gången som ALLA gått till samma scen. För en sketen match.
Jag förstår det inte. Men det gör tydligen alla andra.
Cardigans laddade upp genom att ansluta sig till de tusentals som satt sig fram för Hawaiiscenen.
Jag tog mig till Stora dans för att lyssna på
Montt Mardié
. Ett tag trodde jag att jag skulle bli helt själv, men tydligen finns det fler som struntar i sporten.
David Pagmar fick den här kvällen hjälp av valda delar Lesport på scen. Senast jag såg David var han helt själv på Pustervik i Göteborg. Då tyckte jag han var rätt tråkig.
Nu är det annat läge, det är riktigt glatt och fartigt. Han bjuder på sig själv och sin sextiotals pop. Det är hjärta och smärta i solen. Det smakar sand och sommar.
David har nog lyssnat mycket på bröderna Wilson, för han försöker plocka in alla deras tonlägen i sin röst. Det går oftast väldigt bra, men ibland blir det lite för mycket Kalle Anka sång.
Samtidigt håller fotbollen på…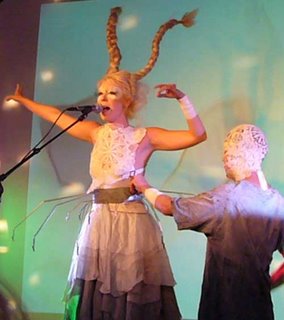 Efter det tar jag mig till lilla Rookie scenen och
Zeigeist
.
Detta Göteborgs elektrofenomen är svårt att art bestäma. Bandet byter skepnad så fort man vant sig, det är lika delar dansant The Knifes pop som urflippat konstprojekt.
Men vilka låtar! Var enda av dem är en dansgolvshit, om inte mer. För där The Knife faktiskt ibland villar bort sig går Zeigeist rakt fram. Enklast är som bekant alltid bäst, och vill man ha det bra måste man renodla.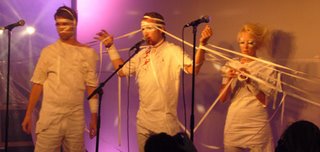 Det är stenhårda vackra sånger och maskeradfest. Blod, vita kläder, blå färg och guldkostymer. Inga "springa bakom scen" för att byta konstym, allt sker framför våra ögon och är en del av upplevelsen.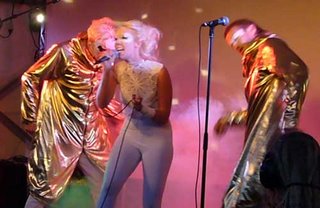 Allt bra tar slut för fort. Efter 20 minuter är det över och det är fler än jag som stannar kvar länge framför scen. Vi kräver mer!
Samtidigt håller fotbollen på…
Tillsist:
Ok, det var väl roligt att "vi" vann… Grattis.
Kvällarna är fina i Småland. Precis som alla bilderr kan du klicka på denna för att se den större.
Jerry Boman